The Ultimate Guide for Mobile Worker Safety
Our free, in-depth guide will teach you everything you need to know to ensure your Lone Worker's Safety. It Includes:
Comprehensive risk management
Australian lone worker legislation
Lone worker safety solutions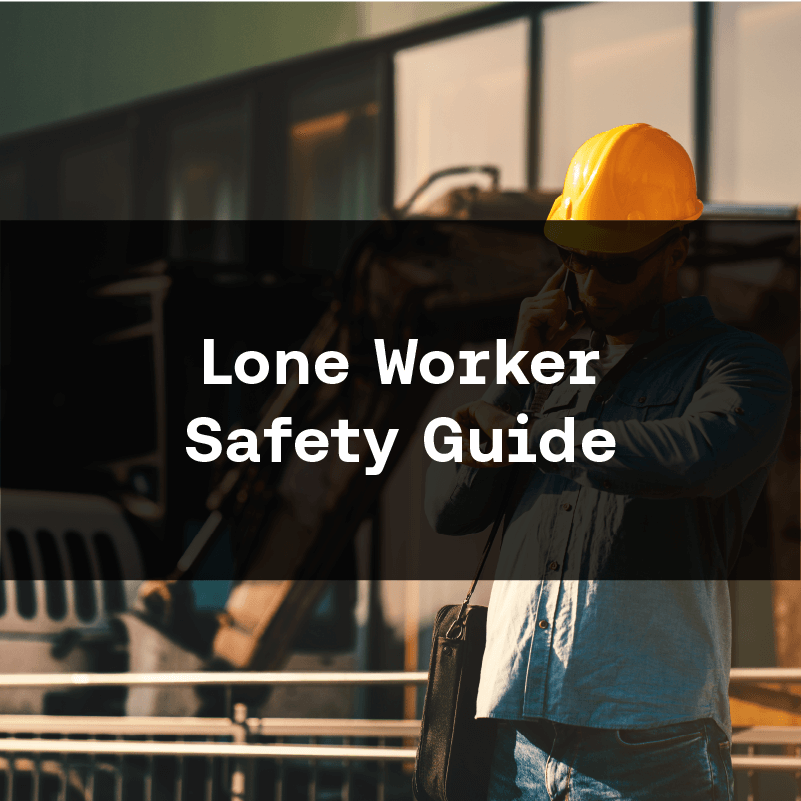 What is a Lone Worker?
A lone (or isolated worker) carries out their work activities without the immediate and direct support of colleagues or supervisors. Simply put, if they can't be heard or seen by their colleagues, they are working alone, whether an entire day or a part of the working day.
When to use the Lone Worker Safety Guide?
The Lone Worker Safety Guide should be used as a reference to develop or enhance your organisation's lone worker safety policies and procedures. Ensure that your policies align with best practices and regulatory requirements.
FAQs
What are some essential safety measures for lone workers?
Effective communication systems, regular check-ins or virtual supervision, risk assessments, emergency response protocols, personal safety training, access to safety resources, and appropriate personal protective equipment (PPE).
Can lone workers refuse to work in unsafe conditions?
Yes, lone workers have the right to refuse work if they believe it poses a significant risk to their health and safety. Employers should have processes in place to address such concerns and ensure that appropriate measures are taken to mitigate risks.
What should lone workers do in case of a medical emergency or injury?
Lone workers should have clear instructions on how to respond in case of a medical emergency or injury. This may include carrying a first aid kit, receiving appropriate medical training, having access to emergency medical services, and informing supervisors or designated emergency contacts.
Effectively manage the risks associated with a lone or isolated workforce
Why use SafetyIQ?
SafetyIQ's Lone Worker Safety Solution provides a streamlined, automated and reliable approach to managing the risks of a lone and isolated workforce.
How do we do this?
Users create a Lone Worker Activity with Check-Ins at scheduled time intervals. There is an optional risk assessment attached to the activity that includes an automated approval process. This calculates the risk score and automatically approves low-risk results and notifies a supervisor for review in high-risk scenarios.
If approved, the user can start their lone work and they are given automatic SMS and email reminders to check-in at predetermined times to confirm their safety. If they fail to check-in, the escalation process is triggered and managers are alerted to respond.
Benefits of an Automated Approval Process:
Real-time emergency response: If a check-in is missed or an emergency arises, the system can trigger immediate notifications to designated contacts or a central monitoring station, ensuring timely assistance.
Integration with Satelite and GPS technology: With real-time location data available, managers can know the precise location of a lone worker, enabling quick response and accurate dispatch of assistance.
Data Collection and Reporting: Digital solutions provide comprehensive data collection and reporting capabilities. They capture relevant information such as check-in records, incidents, response times, and location data. This data can be used for analysis, trend identification, compliance reporting, and continuous improvement of lone worker safety programs.
Compliance and Documentation: Digital lone worker solutions help organisations meet regulatory requirements and demonstrate compliance with lone worker safety standards. They provide a robust documentation trail of communication logs, check-in records, incident reports, and response activities. This documentation can be valuable during audits, investigations, or legal proceedings.
Real Results Experienced by Our Customers:
On average, our customers have seen 85.17% productivity improvements.
Sandvik in particular experienced:
Complete visibility of workers across Sandvik's entire operations
Over $1000 a month saved by switching to SafetyIQ
42 hours a month saved by eliminating manual processes