Everything you need to know about effective safety observation practices.
Whether you're seeking guidance on meeting compliance, or looking to improve your organisation's safety with more effective processes, this guide offers valuable insights and practical tips to navigate the complexities of hazard management with safety observations.
Download your copy today!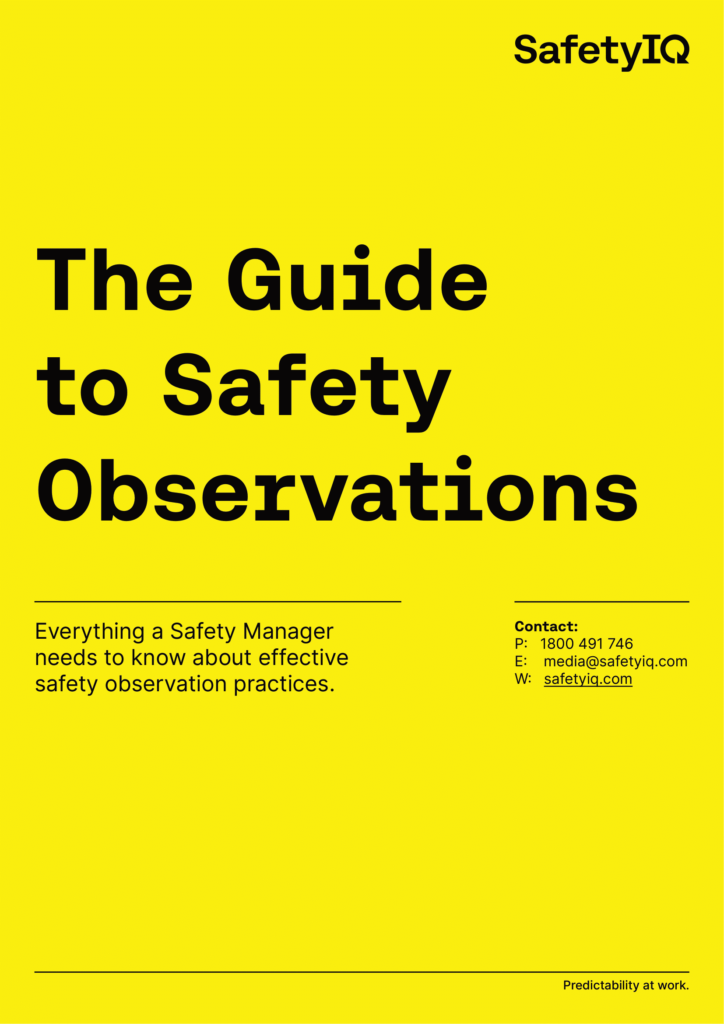 What is the Safety Observation Guide?
A comprehensive resource designed to empower individuals and organizations to improve workplace safety practices. This guide provides valuable insights, practical tips, and step-by-step instructions for conducting effective safety observations. Whether you are a safety professional, a supervisor, or an employee passionate about fostering a safer work environment, this guide is an indispensable tool in your safety journey.
How to use the Safety Observation Guide?
Using the Safety Observation Guide is straightforward and user-friendly. Simply follow these steps:
Download the Guide: Click on the download button above to receive access to your copy. You will receive the guide in an email shortly and it's available in a convenient PDF format that you can save and access anytime, anywhere.
Read and Absorb: Take your time to read through the guide thoroughly. Familiarize yourself with the concepts, techniques, and strategies presented within.
Apply the Knowledge: Follow the step-by-step instructions in the guide to conduct effective safety observations. Learn how to observe, document findings, and communicate them effectively. The guide also offers guidance on maintaining objectivity, addressing observed issues, and encouraging a positive safety culture.
Share and Collaborate: Spread the knowledge and collaborate with your team. Share the guide with fellow safety professionals, managers, and employees to create a collective effort towards a safer workplace.
FAQs
Who can conduct safety observations?
Safety observations can be conducted by anyone in the organization, including employees, supervisors, managers, and safety professionals. It is encouraged for all individuals to actively participate in safety observations..
How often should safety observations be conducted?
The frequency of safety observations can vary depending on the nature of the work, industry, and organizational needs. Regular and consistent safety observations are recommended to ensure comprehensive coverage and timely identification of hazards.
What is the difference between conducting a safety observation and hazard identification?
Whilst they are very similar, and many solutions combine the two, a safety observation is organized and planned. During a specific period of time, a conductor focuses on identifying hazards and generating a report. Hazard Identification is continually ongoing, with everyone reporting any hazards as they identify them in the field.
Utilizing Our Safety Observation Solution
Gathering Information
SafetyIQ allows everyone to easily share what's happening around them.
Whether it's your workers completing their alertness test as they arrive on site, a field worker reporting a near miss, a mobile worker filling out a journey management plan, or your factory floor inspecting the equipment. All of these pieces of information are easily collated in a central platform with our safety software.
Seeing the Big Picture
SafetyIQ provides complete visibility over your safety processes.
Whether it's tracking the process of training, audits or inspections, viewing your mobile and lone workforce on the User Activity Map, or uncovering incident trends or hazard hotspots.
SafetyIQ gives you a bird's eye view.
Accessible and Easy to Use
You don't need to be tech-savvy to make SafetyIQ work for you.
Our Safety Software Solution provides clear color-coded dashboards that highlight what is important. When it's important.
Our dedicated onboarding team and exceptional user experience ensure a smooth implementation.