Download the Ultimate Safety Guide Focusing on Manufacturing
Our free Manufacturing Industry Guide gives a comprehensive overview of workplace health and safety requirements, unique to the industry.
Identify and assess potential risks
Understand key safety legislation
Discover key strategies and best practice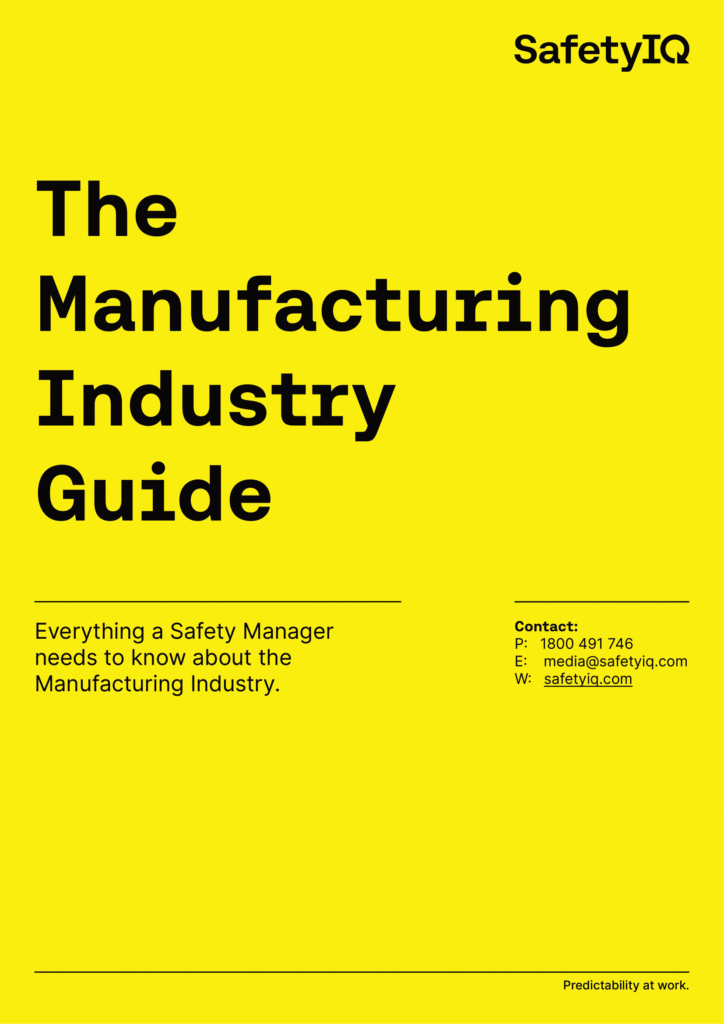 What is the Manufacturing Industry Guide?
The Manufacturing Industry Safety Guide is a valuable resource created specifically for safety professionals working in the manufacturing sector. It serves as a comprehensive reference for safety guidelines, best practices, and regulatory information, helping industry practitioners ensure the well-being of their workforce and the environment.
What is included in the guide?
Our industry guide covers a wide range of topics and provides practical insights into enhancing safety protocols. Here are the key sections included:
Identifying and Assessing Potential Risks and Hazards: Learn how to recognise potential risks and hazards specific to the manufacturing industry. Understand the importance of risk assessment methodologies and how to implement them effectively.
Overview of Key Industry Safety Legislation: Gain a thorough understanding of the key safety legislation and regulations that govern the manufacturing industry. Stay informed about the legal requirements to ensure compliance and maintain a safe working environment.
Safety Strategies and Best Practices: Discover effective safety strategies and best practices employed by industry leaders. Learn how to develop robust safety management systems, foster a safety culture, and implement preventive measures to mitigate risks.
Technology Solutions for Safety Challenges: Explore how our innovative technology solutions address safety challenges faced by the manufacturing industry. Discover how our cutting-edge tools and systems can enhance safety practices, streamline operations, and minimise risks.
Customer Success Stories: Gain inspiration from real-life success stories that highlight how our technology and safety practices have transformed organisations within the industry. Learn from their experiences and understand how they have achieved exceptional safety standards.
Further Resources and Industry Associations: Access additional resources, such as whitepapers, case studies, and research papers, to delve deeper into safety practices and advancements. Explore industry associations and organisations that provide valuable insights and networking opportunities.
FAQs
What are the key safety solutions in SafetyIQ for this industry?
For the Manufacturing Industry, we have developed a bundle of our features and solutions that help solve the challenges unique to the Industry. These are: Fatigue Management, Audits & Inspections, Incident Reporting, Safety Observations, Hazard Identification and Training Tracker. Explore our products to find out more!
How do I access the guide?
To access the Manufacturing Industry Safety Guide, simply fill out the form at the top of this landing page with your name and email address. Upon submission, you will receive a download link via email, allowing you to dive into the comprehensive guide and empower yourself with the knowledge and tools necessary for a safer and more secure work environment.
Can I use this guide as legal council??
The Manufacturing Industry Safety Guide is intended as a general reference tool and should not replace professional advice or legal counsel. It is recommended to consult with industry experts and regulatory authorities to ensure compliance with specific regional requirements and conditions.
Prevent Incidents with Data-Driven Insights
Why use SafetyIQ?
Ensure your manufacturing operations meet the highest standards of safety and compliance with SafetyIQ. Our proactive risk management is specifically configured to manage all elements of Work Health and Safety that are unique to the Industry including comprehensive EHS Management for streamlined audits, inspections and hazard and incident reporting.
Benefits of a Digital Solution:
Efficiency and Time Savings: Digital solutions streamline your safety processes by eliminating the need for manual paperwork and slow approval processes.
Advanced Reporting and Analytics: Digital solutions offer powerful reporting and analytics capabilities. Data can be analysed to identify trends and patterns, providing data-driven insights and enabling strategic decision-making.
Integration with Other Systems: Our digital solution can be integrated with all your safety processes allowing for a comprehensive and streamlined approach.