The Ultimate Guide for Mobile Worker Safety
Our free Journey Management Guide will help you develop a perfect journey management plan.
The Journey Management Guide is based on:
Over 7 years industry knowledge
Over 40,000 active users
Over 400,000 completed journeys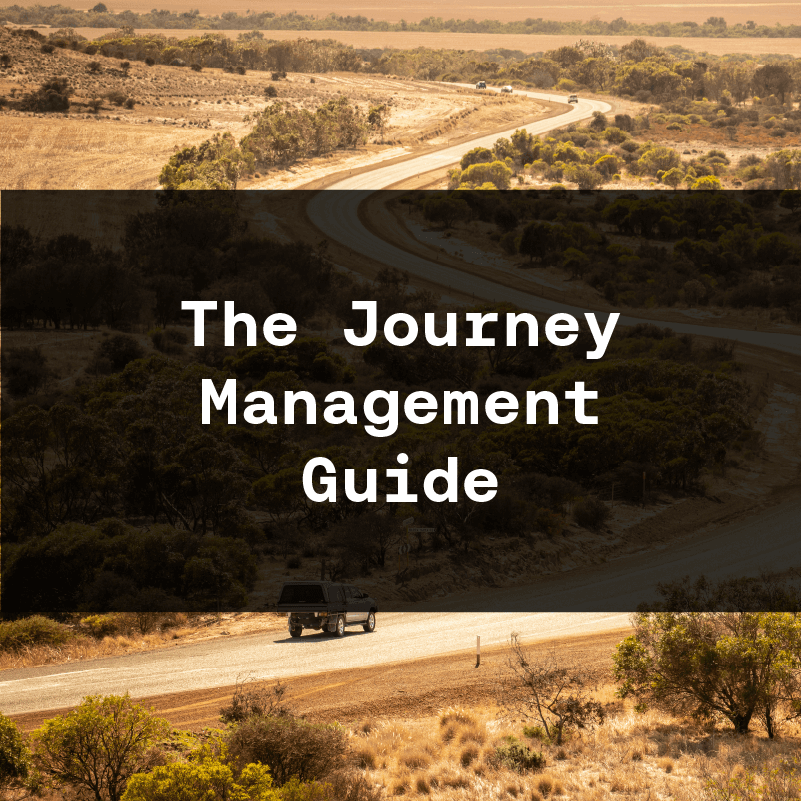 What is a Journey Management Guide?
Our Journey Management Guide is a comprehensive resource designed to help organisations effectively manage the risks associated with employees who travel. Journey Management is a process that focuses on mitigating hazards and ensuring the safety and well-being of employees who travel as part of their job responsibilities or to different locations to perform their work. The guide provides a systematic approach to identify, assess, and control risks associated with travel, enabling organisations to establish robust safety protocols and practices.
How to use the Journey Management Guide?
The Journey Management Guide will help you develop a journey management plan that provides standard procedures for planning and carrying out company travel in a way that meets compliance and mitigates risks.
Consider the following use case for an effective Journey Management Plan:
Routine Travel: When employees frequently travel as part of their job, whether it's daily commuting, site visits, or client meetings. The guide ensures that consistent safety measures are implemented to minimise travel-related risks.
Long-Distance Travel: When employees undertake long-distance or international travel, which may involve different transportation modes, unfamiliar locations, and potential cultural or environmental challenges. The guide assists in assessing and addressing specific risks associated with these types of journeys.
Remote Work Locations: When employees travel to remote or off-site locations that present unique hazards, such as construction sites, oil rigs, or rural areas. The guide helps identify and manage the specific risks associated with these environments.
Travel in High-Risk Areas: When employees travel to regions with higher security risks, political instability, or natural disaster-prone areas. The guide provides guidance on implementing additional safety measures to safeguard employees in such situations.
FAQs
What does Journey Management mean?
A planned and organised method for lowering transportation-related hazards within an organisation's operations is known as journey management.
What is Journey Risk Management?
A scientific method for ensuring safe and effective travel is called "journey risk management." It entails documenting the identified risk factors and accompanying mitigation actions on specific routes, which may subsequently be used to develop a route management methodology.
What is Journey Management Software?
Journey Management software helps you plan, manage and execute your journeys. It allows you to structure and manage journeys while minimising costs
Why is a Journey Management Plan Necessary?
Journey management plans are an important component of building a safe, effective and efficient travel management system. By using your journey management plan, you will establish a clear path for every employee to follow to safely complete their duties.
Effectively manage the risks associated with a travelling workforce
Why use SafetyIQ?
SafetyIQ's Journey Management Solution provides a streamlined, automated and reliable approach to managing the risks of a travelling workforce. We understand your team is busy, so we automate mundane tasks where possible and bring your attention to where it's needed.
How do we do this?
All users can create a journey plan in the system where they select the mode of transport, location, dates, expected time and any additional safety integrations such as GPS Devices, IVMS Devices or Risk Assessments.
Then whilst the user is on their journey, they are given automatic SMS and email reminders to check-in at predetermined locations to confirm their safety. If they fail to check-in, the escalation process is triggered and managers are alerted to respond.
Benefits of a Digital Solution:
Efficiency and Time Savings: Digital solutions streamline the journey management process by eliminating the need for manual paperwork and slow approval processes. With a digital platform, users can quickly create a journey and instantly send the notification to the right person for approval.
Advanced Reporting and Analytics: Digital solutions offer powerful reporting and analytics capabilities. Data can be analysed to identify trends and patterns such as particular locations that have a high number of incidents or escalations. This allows data-driven insights and strategic decision-making.
Integration with Other Systems: Digital Journey Management Solutions can be integrated with safety processes such as risk assessments and safety devices. This ensures that you have a comprehensive process that speaks to each other.