Everything you need to know about Training Tracking for enhanced safety and compliance
This guide aims to provide you with a thorough understanding of training tracking, its importance, best practices, and an overview of one of the leading solutions in the market, SafetyIQ's software. Whether you're a business owner, a training manager, or an HR professional, this guide is designed to help you navigate the complex landscape of training tracking.
Download your copy today!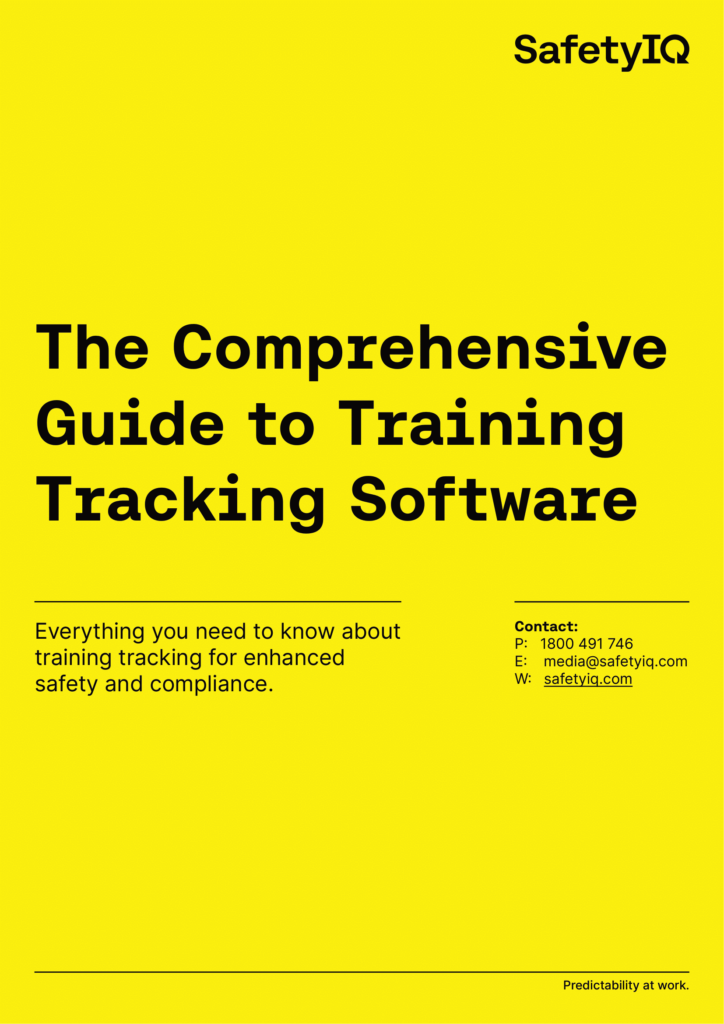 What is the Training Tracking Software Guide?
A comprehensive resource designed to empower individuals and organizations to improve workplace safety practices. This guide provides valuable insights, practical tips, and step-by-step instructions for conducting effective training tracking processes, including how software can enhance the experience. Whether you are a safety professional, a supervisor, or an employee passionate about fostering a safer work environment, this guide is an indispensable tool in your safety journey.
How to use the Training Tracking Guide?
Using the Training Tracking Software Guide is straightforward and user-friendly. Simply follow these steps:
Download the Guide: Click on the download button above to receive access to your copy. You will receive the guide in an email shortly and it's available in a convenient PDF format that you can save and access anytime, anywhere.
Read and Absorb: Take your time to read through the guide thoroughly. Familiarize yourself with the concepts, techniques, and strategies presented within.
Apply the Knowledge: Follow the step-by-step instructions in the guide to conduct effective training tracking processes. Learn how to set up effective onboarding, ensure safety training completion and certification, and how software enhances this process.
Share and Collaborate: Spread the knowledge and collaborate with your team. Share the guide with fellow safety professionals, managers, and employees to create a collective effort towards a safer workplace.
FAQs
Why use training tracking software?
Like any digitized management system, software has many benefits over manual, paper-based processes—from ensuring compliance to automating reminders and schedules.
Is training tracking software suitable for small businesses?
Yes, training tracking software is designed to cater to businesses of all sizes. Many solutions offer scalable options, making them suitable for both small and large organizations.
Is data privacy a concern?
Data privacy is a legitimate concern with any software that handles sensitive information. It's essential to choose a reputable training tracking software vendor that complies with data protection regulations and provides robust security measures to safeguard your data.
How can I measure training effectiveness?
One of the key features of training tracking software is its ability to generate detailed reports and analytics on various training metrics. These reports can provide insights into the effectiveness of training programs, learner performance, and areas for improvement. With a full EHS Management System, you can also assign training as a corrective action to an increase in hazards or incidents in your organization. Then you can evaluate whether the training successfully reduced hazards and incidents.
Automatic Documentation and Notifications of Required Training
Why use SafetyIQ?
Managing staff training can become a full-time job. You have new staff members to induct, regular training renewals and specialist roles with certificates that expire. If any of this slips through the cracks, and a preventable injury occurs, it's likely to fall on the small safety team's (most of the time a team of 1) shoulders.
Unlike manual or paper-based training tracking, our solution includes automated training reminders and renewals. You can document, assign, schedule and track your staff's training.
Benefits of our Digital Solution:
Ensure Compliance:
We allow you to easily provide proof of completion, helping your company remain in compliance with industry regulations and standards.
Reducing Missed Sessions:
With automated reminders (including renewals), SafetyIQ helps reduce missed training sessions, ensuring that your employees are always up-to-date with their training requirements
Efficiency:
Say goodbye to manual data entry and tedious record-keeping. Our digital template automates calculations and report generation, saving you time and reducing the risk of errors.
Accessibility:
Access your training records from anywhere, at any time. Whether you're in the office or on the go, our template ensures that important information is just a click away.
Data Integrity:
Digital records are less susceptible to loss or damage compared to paper files. Keep your training data safe and secure with our reliable Excel spreadsheet.
Analytics:
Gain valuable insights into your training programs with built-in analytics and reports. Monitor trends, identify gaps, and make informed decisions to enhance your safety training initiatives.