The Ultimate Template for Tracking Your Employee Safety Training
Our free interactive Excel document allows you to:
Assign and track the completion of employee training
Customize your course list to meet your site or role requirements
Ensure everyone has the knowledge required to do their tasks safely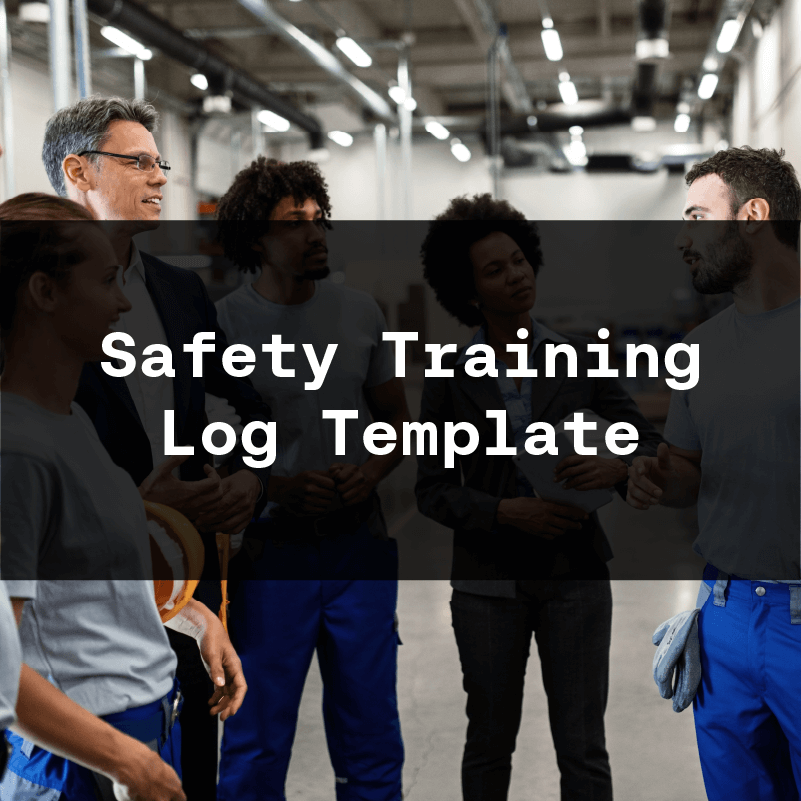 What is a Safety Training Log?
A Safety Training Log is a tool used to track and assign your employee training. Our free offer allows you to take account of who has completed the required training, their pass/fail status, completion dates, pass/fail status, and notes and is ultimately completely customizable to your needs.
How to use the Safety Training Log Template?
Download the Template: Fill your details out in the above form so that we can email you your copy of the Excel spreadsheet. Once you click download, you will receive an email shortly after - don't forget to check your junk mail!
Read over the Instructions: In the 2nd tab, we included comprehensive instructions for how to customize the Training Log and features within the spreadsheet. If you ever get stuck, feel free to reach out to us by replying to the initial email.
Customize your Training Course List: Fill in all the safety training courses your employees need to take. If this list is too long, it might be a good idea to create copies and organise them by site, role or project.
Assign Training Courses: Now that you've set out your course list, fill out the table with dates, names, completion status and optional notes. If there is any additional information you would like to add, feel free to customize it to your liking.
Communicate and Implement: Share the Training Log with all relevant workers, supervisors, and stakeholders involved in the task or activity. Ensure that everyone understands how to complete their assigned training, when it is due and how to inform you that it has been completed.
Monitor and Review: New employees start, training certificates expire and existing employees may expand their responsibilities and require training in this area. Make sure to keep using this log to stay up to date and ensure everyone is equipped with the knowledge to do their tasks safely!
FAQs
Is this template suitable for all industries?
Yes, our template is versatile and can be adapted to various industries, from manufacturing and construction to healthcare and beyond. Ultimately, you customize the template for your industry's requirements. 
Is technical expertise required to use this template?
Not at all! You don't need to be an Excel wizard to make the most of our template. It comes with clear instructions and its intuitive design ensures that anyone can efficiently manage safety training records. 
Automatic Documentation and Notifications of Required Training
Why use SafetyIQ?
Managing staff training can become a full-time job. You have new staff members to induct, regular training renewals and specialist roles with certificates that expire. If any of this slips through the cracks, and a preventable injury occurs, it's likely to fall on the small safety team's (most of the time a team of 1) shoulders.
Unlike manual or paper-based training tracking, our solution includes automated training reminders and renewals. You can document, assign, schedule and track your staff's training.
Benefits of our Digital Solution:
Ensure Compliance:
We allow you to easily provide proof of completion, helping your company remain in compliance with industry regulations and standards.
Reducing Missed Sessions:
With automated reminders (including renewals), SafetyIQ helps reduce missed training sessions, ensuring that your employees are always up-to-date with their training requirements
Efficiency:
Say goodbye to manual data entry and tedious record-keeping. Our digital template automates calculations and report generation, saving you time and reducing the risk of errors.
Accessibility:
Access your training records from anywhere, at any time. Whether you're in the office or on the go, our template ensures that important information is just a click away.
Data Integrity:
Digital records are less susceptible to loss or damage compared to paper files. Keep your training data safe and secure with our reliable Excel spreadsheet.
Analytics:
Gain valuable insights into your training programs with built-in analytics and reports. Monitor trends, identify gaps, and make informed decisions to enhance your safety training initiatives.