The Ultimate Template To Manage Workplace Risks
Our free Safe Work Method Statement template to:
Identify potential hazards and assess risks
Establish effective control measures
Ensure compliance and promote a culture of risk awareness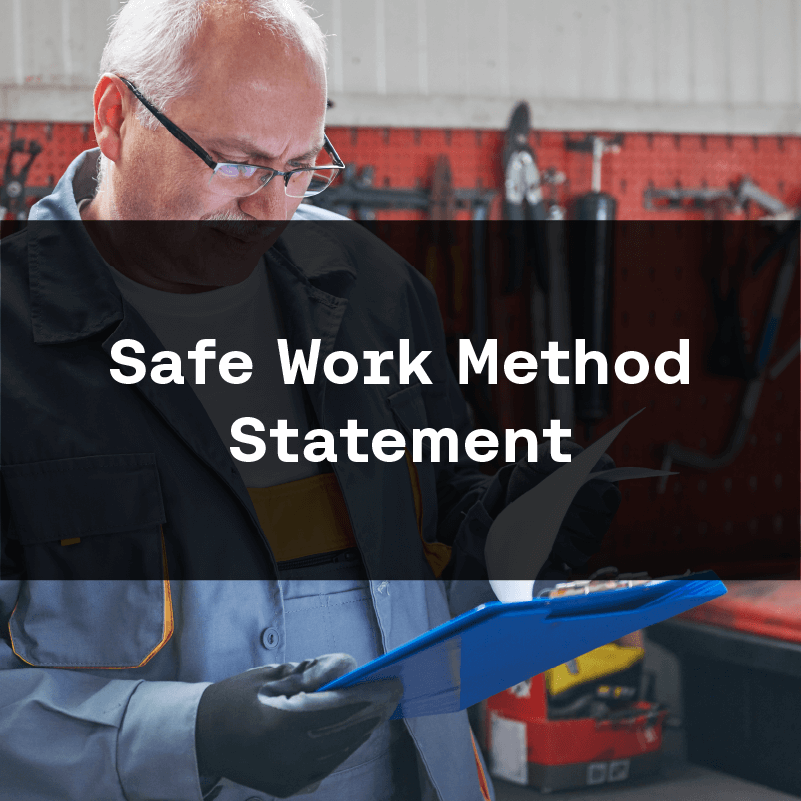 What is a Safe Work Method Statement?
A Safe Work Method Statement (SWMS) is a document that outlines the steps required to safely complete a specific task or activity. It includes a comprehensive assessment of the associated risks and details the control measures necessary to mitigate those risks. The SWMS serves as a vital tool for communicating safety procedures, ensuring consistent work practices, and promoting a proactive approach to workplace safety.
When to use the Safe Work Method Statement Template?
Whilst the template covers only a basic SWMS, it should be used in various situations including:
High-Risk Activities: When performing high-risk activities or tasks that have the potential for significant harm or injury, such as working at heights, operating heavy machinery, or handling hazardous substances.
New or Unfamiliar Tasks: Before commencing new or unfamiliar tasks or activities, where there may be uncertainties regarding potential hazards and appropriate control measures.
Legal Compliance: To fulfill legal requirements and ensure compliance with occupational health and safety regulations, where the use of SWMS is mandated.
Contractual Obligations: When contractually obligated to provide a SWMS as part of project requirements or when working on client sites that require a SWMS for specific activities.
How to use the Safe Work Method Statement?
Download the SWMS Template: Click the provided link to download our SWMS template in your preferred format (e.g., PDF, Word document).
Customise for Your Task: Review the SWMS template and customise it to suit the specific task or activity you are planning. Add details such as task description, identified hazards, control measures, and emergency procedures.
Identify Hazards: Conduct a thorough hazard identification process for the task or activity. Consider potential risks, such as physical hazards, environmental factors, human factors, and any task-specific risks.
Assess Risks: Evaluate the likelihood and severity of each identified hazard and assess the associated risks. Consider the effectiveness of existing control measures and determine additional measures required to reduce the risks.
Develop Control Measures: Develop a set of control measures that will effectively eliminate or minimise the identified risks. This may include engineering controls, administrative controls, personal protective equipment (PPE), and training requirements.
Communicate and Implement: Share the SWMS with all relevant workers, supervisors, and stakeholders involved in the task or activity. Ensure that everyone understands the identified hazards, risks, and control measures. Implement the documented control measures during the execution of the task.
Monitor and Review: Regularly review the effectiveness of the SWMS and its control measures. Make adjustments as necessary to address changing conditions, new hazards, or lessons learned from incidents or near-miss events.
FAQs
Who is responsible for preparing a Safe Work Method Statement?
The person or organisation in control of the work activity. This may be the employer, principal contractor, or self-employed individual, depending on the specific circumstances. 
Is a Safe Work Method Statement legally required for all tasks?
The legal requirements for a SWIMS vary by jurisdiction and industry. It is essential to consult local occupational health and safety regulations to determine when a SWMS is legally required for specific tasks or activities.
Can I use a generic SWMS for all tasks?
While a generic SWMS template can provide a starting point, it is important to tailor the SWMS to a specific task or activity. Each task may have unique hazards and risks that require specific control measures, so customisation is necessary.
How long should a SWMS be valid?
The validity of a SWMS depends on the task or activity, the work environment, and any changes that may occur. It is recommended to review and update the SWMS whenever there are significant changes, such as modifications to the task, equipment, or work processes.