The Ultimate Template for Assessing Your Travelling Workforce's Risk
Our free driving risk assessment guide will help you benchmark your worker risk profile.
The Driving Risk Assessment Guide is based on:
Over 5 years of industry knowledge
Over 30,000 active users
Over 100,000 completed risk assessments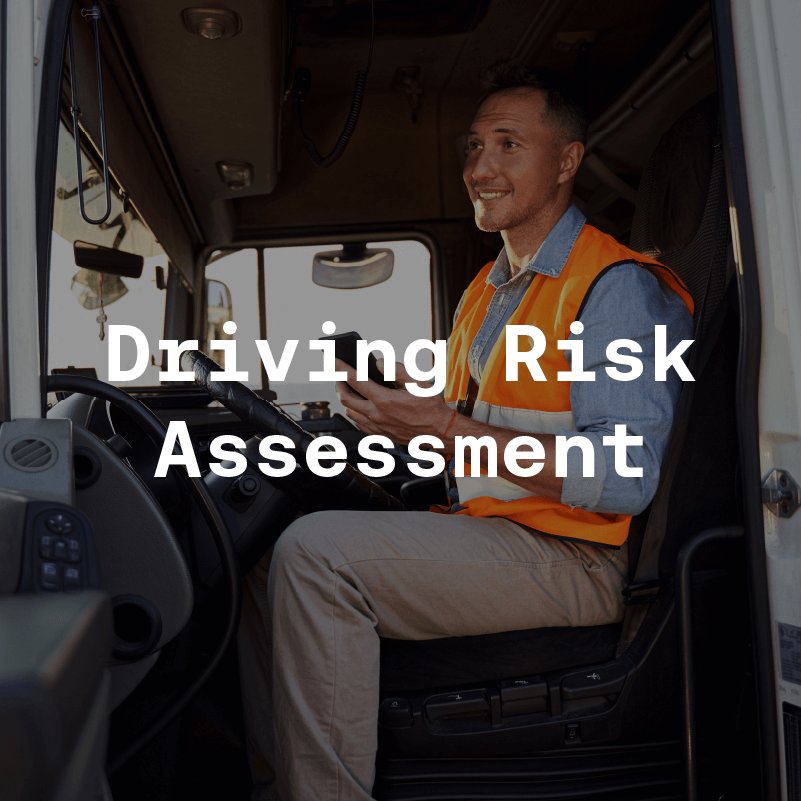 What is a Driver Risk Assessment?
A Driver Risk Assessment enables you to assess and mitigate potential high-risk scenarios before a driver gets behind the wheel. 62% of all work-related fatalities are related to vehicles making driving one of the most high-risk tasks in the workplace. This is why it is essential to proactively assess risks and prevent potential accidents. A Driver Risk Assessment is often a checklist/survey that assesses the driver's well-being, the road and weather conditions, and location. This can give you clarity on if it is safe for the driver to commence the travel.
When to use a Driver Risk Assessment
Whilst it can be useful for anyone that drives for work, the risk assessment is essential for longer drives and driving in remote or high-risk areas. We recommend completing the risk assessment before commencing your travel so that users understand the risks involved, unnecessary travel can be avoided, and any actions can be taken to mitigate existing risks.
How to use a Driver Risk Assessment
Users can fill out the form online through an interactive PDF and email the results to their supervisors. Or similarly, you can print the form and fill by hand. Then following the risk matrix at the end of the document, calculate the risk score by adding up the answers. If the results indicate low risk, the planned travel can go on ahead without review. However if medium-high risk, we suggested that a supervisor reviews the journey and makes considerations such as:
Is the travel necessary?
What steps could we make to mitigate the high risks? (e.g. is a passenger viable? Would a different travel date have improved weather conditions, should they use a GPS device for out of coverage communication)
Does this person have high experience travelling in these conditions?
FAQs
Who should use a Driver Risk Assessment?
People that travel for work, particularly in high-risk locations or on long journeys.
How can you ensure your workers complete the risk assessment?
When travel is planned, the risk assessment should be attached to the proposed travel and completed so that a supervisor can review it before the travel commences. We recommend sending email reminders to your workers or using our digital solution that includes automated reminders and approval processes to streamline this.
Does the Risk Assessment cover everything you should do?
Whilst there may be other factors that are specific to your organisation's operations, our Risk Assessment gives a good overview of what should be covered. For example, we look at weather and road conditions, driver experience, fatigue, and more.
Is the Risk Assessment customisable?
Our free risk assessment is our basic option which is not customisable. However, our complete solution offers full customizability. Contact us to find out more.
Effectively manage the risks associated with a travelling workforce
Why use SafetyIQ?
SafetyIQ's Risk Assessment Module transforms traditional solutions into a streamlined, and automated approach. We understand your team is busy, so automating mundane tasks is critical to improving productivity. Find out more.
How do we do this?
Once travel has been planned using our Journey Management Solution, users are prompted to complete the Risk Assessment. The Risk Assessment can be customised to suit your exact needs and ensure every question is relevant to your workers saving time and reducing frustration. Once the Risk Assessment is completed, our solution includes an automated approval process. This calculates the risk score, automatically approves low-risk travel, and notifies a supervisor for review in high-risk scenarios. Once approved, your worker can safely commence their travel and the information is captured in the worker's travel history.
Benefits of Automated Approval Processes:
Time and Cost Savings
Implementing automated approval processes for risk assessments can lead to significant time and cost savings. By streamlining the review and approval of risk mitigation actions, organisations can reduce manual efforts, expedite decision-making, and allocate resources more efficiently.
Improved Accuracy and Consistency
Automated approval processes help minimise human errors and ensure consistency in risk assessment and mitigation efforts. By relying on predefined rules and algorithms, organisations can maintain a high level of accuracy and reduce the likelihood of oversights or inconsistencies in the risk management process.
Real Results Experienced by Our Customers:
On average, our customers have seen 85.17% productivity improvements. Ventia Rig and Well Services experienced:
No fatigue-related incidents since implementation in 2016
70% reduction in costs by switching to SafetyIQ instead of call centres
37 hours a month is saved by eliminating manual approval processes