Don't let fatigue compromise your workplace safety standards.
Download our eBook now to understand the risks and learn effective management strategies.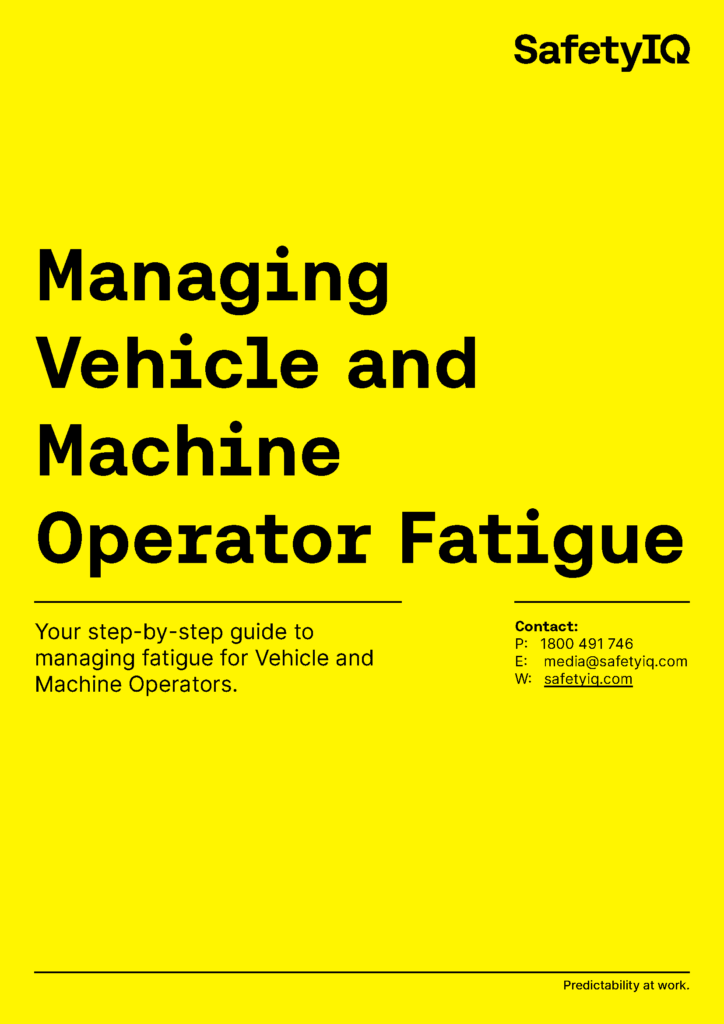 What is in the eBook - Managing Vehicle and Machine Operator Fatigue
Regardless of the industry you operate in, fatigue poses a significant risk to workplace safety. Accidents caused by tired operators can result in serious injuries, property damage and even loss of life.
Inside this eBook, you will find detailed information including:
Understanding the impact of fatigue on decision-making
A legislative overview and shared responsibility framework.
Methods to manage fatigue
Free actionable templates: A Driver Fatigue Assessment, Machine Operator Fatigue Assessment, Driver Work Diary Template
How we can help
Who are Machine and Vehicle Operators?
Machine and vehicle operators are the backbone of many industries. From heavy machinery in construction to long-haul truck drivers, these professionals play a crucial role in keeping businesses moving. Our eBook dives deep into the challenges they face and how to ensure they operate at their best.
How to use the eBook?
Download: Click on the download button above, fill out your details and check your email to receive your copy of the eBook. It's available in a convenient PDF format that you can save and access anytime, anywhere.
Read and Absorb: Take your time to read through the eBook thoroughly. Familiarize yourself with the concepts, techniques, and strategies presented within.
Share and Collaborate: Spread the knowledge and collaborate with your team. Share the eBook with fellow safety professionals, managers, and employees to create a collective effort towards a safer workplace.
FAQs
Is this eBook suitable for all industries?
Yes, our eBook offers universal insights applicable to various industries with machine and vehicle operators. Please see our industries page for more information.
What is the purpose of the EHS management system?
To manage environment, health and safety responsibilities, ensuring compliance and minimizing workplace risks.
Is digitized EHS management expensive?
Though digitizing your EHS program has a fixed expense, the time savings from increased efficiencies, and cost savings from reduced incidents, have proven to save you money. Safety+Health Magazine reports that various studies have shown $1 invested in injury prevent returns between $2 and $6 This was a conservative estimate and only based on reduced incidents.
Utilizing Our Digitized EHS Management Solution
At SafetyIQ, we are pioneers in safety technology, dedicated to enhancing workplace safety and efficiency. Our advanced fatigue management solution utilizes cutting-edge technology to monitor and prevent operator fatigue effectively. By choosing us, you're partnering with a team committed to making your workplace safer and more productive.
Why use SafetyIQ?
SafetyIQ's Fatigue Management Solution provides a streamlined, automated and reliable approach to identifying when your workers are struggling with alertness - a leading indicator of fatigue. 30% of serious accidents are directly related to fatigue, and people are 70% more likely to be in a workplace accident when fatigued. Avoid the serious consequences of fatigue-related incidents, and provide an extra layer of protection for your workers with SafetyIQ.
How do we do this?
Users complete a 60-90 second game-like test at the start of each shift or before undertaking a high-risk activity. The system develops a personal, rolling baseline that learns each person's behaviour patterns, and average performance, and adjusts as they improve with practice.
If a user receives a score outside their baseline parameters, they are prompted to retake the test. If their score doesn't improve, their manager is notified to check-in with them and see if they are safe to work.
Our goal is to provide you with the ability to highlight at-risk workers, start a conversation and care for your employees.
Actual results from our Solution:
32% reduction in incident frequency
40% reduction in total recordable incidents
53% sustained reduction in annual claims costs