All of the risks associated with an ineffective EHS management system
If your organization is still using manual processes or a dated software solution for managing EHS, you could be facing a range of challenges.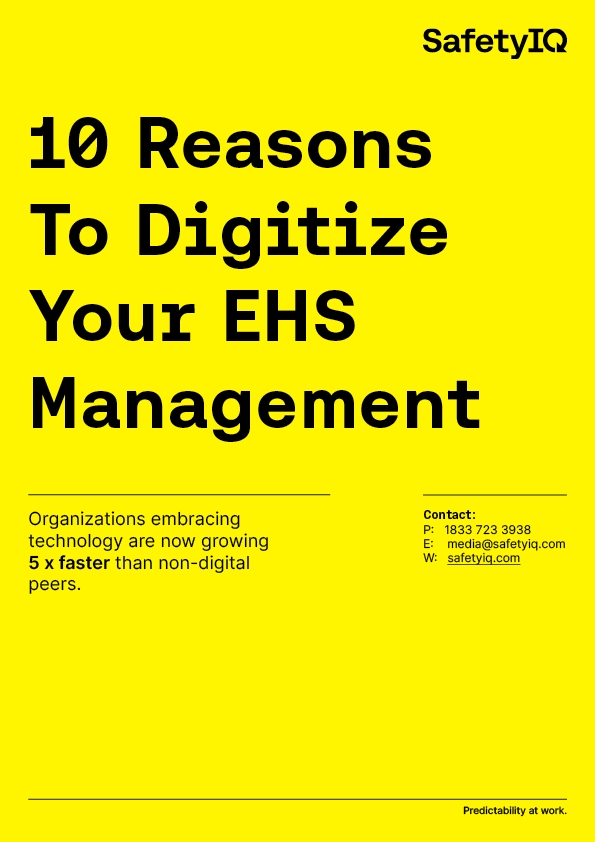 What is in the eBook - 10 Reasons to Digitize your EHS Management
Regardless of the industry you operate in, or the size of your organization, effective environmental health and safety (EHS) management is vital to your success – protecting both your people and your profits.
Inside this eBook, you will find detailed information including:
Risks of ineffective EHS management
How digitized EHS management can help
How other companies have gone digital
How we can help
How to use the eBook?
Download: Click on the download button above, fill out your details and check your email to receive your copy of the eBook. It's available in a convenient PDF format that you can save and access anytime, anywhere.
Read and Absorb: Take your time to read through the eBook thoroughly. Familiarize yourself with the concepts, techniques, and strategies presented within.
Share and Collaborate: Spread the knowledge and collaborate with your team. Share the eBook with fellow safety professionals, managers, and employees to create a collective effort towards a safer workplace.
FAQs
What are the benefits of Digitized EHS management?
EHS management software streamlines compliance enhances safety, reduces risks and improves reporting.
What is the purpose of the EHS management system?
To manage environment, health and safety responsibilities, ensuring compliance and minimizing workplace risks.
Is digitized EHS management expensive?
Though digitizing your EHS program has a fixed expense, the time savings from increased efficiencies, and cost savings from reduced incidents, have proven to save you money. Safety+Health Magazine reports that "various studies have shown $1 invested in injury prevent returns between $2 and $6." This was a conservative estimate and only based on reduced incidents.
Utilizing Our Digitized EHS Management Solution
Gathering Information
SafetyIQ allows everyone to easily share what's happening around them.
Whether it's your workers completing their alertness test as they arrive on site, a field worker reporting a near miss, a mobile worker filling out a journey management plan, or your factory floor inspecting the equipment. All of these pieces of information are easily collated in a central platform with Digitized EHS Management.
Seeing the Big Picture
SafetyIQ provides complete visibility over your safety processes.
Whether it's tracking the process of training, audits or inspections, viewing your mobile and lone workforce on the User Activity Map, or uncovering incident trends or hazard hotspots.
SafetyIQ gives you a bird's eye view.
Accessible and Easy to Use
You don't need to be tech-savvy to make SafetyIQ work for you.
Our Digitized EHS Management provides clear color-coded dashboards that highlight what is important. When it's important.
Our dedicated onboarding team and exceptional user experience ensure a smooth implementation.