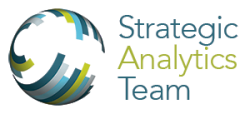 MEDIA RELEASE
Regional Tech Startup SafetyIQ Secures European Partnership
Mobile workforce solution continues global expansion through partnership with
Strategic Analytics Team
Australia, 28 November 2016: North Queensland mobile workforce start-up, SafetyIQ, has announced a new partnership with UK-based operational expertise management specialist, Strategic Analytics Team (SAT), as it continues to support the growing amount of mobile workers, predicted to encompass 73 per cent of the workforce by 2020.
The partnership with SAT provides SafetyIQ with its first foothold in the European market, becoming its sixth international supplier and adding to its current reach that includes the United States, Asia-Pacific and the Middle East.
SAT will be implementing the SafetyIQ journey management software into its operational logistics programs provided to some of the world's largest companies, to enable organisations to efficiently and safely manage the travel of their mobile workers. Through the introduction of SafetyIQ software onto employees' smart devices, workers can input their travel details complete with check-in points that enable employers to track their whereabouts. Alerts are sent should a check-in not be actioned.
Joe Hoolahan, Co-Founder and CEO of SafetyIQ, said: "The partnership with SAT is very exciting for SafetyIQ and provides us with a strong foothold into the European market. SAT has supported many businesses internationally with their operational logistics, so the collaboration with SafetyIQ journey management software is a natural fit. An organisation's obligation to staff wellbeing is not just good practice, but it's often legislated. SafetyIQ provides a solution to uphold employee health & safety regulations even with a nimble, mobile workforce that may be dispersed across several locations."
Operating its global business out of Townsville, SafetyIQ is flying the flag for Australian regional innovation and is a perfect example of how technology is allowing work to be performed from any location across the globe. Specialising in the construction, resource and health sectors, SafetyIQ enables employers to monitor every step of their employee's journeys, which provides peace of mind, particularly when heading to remote or unsafe locations.
Paul Jorgensen, Senior Partner and Founder of SAT, said: "SAT is proud to announce an agreement between SAT and SafetyIQ. We have been in discussions with SafetyIQ for over six months now and during that time we tested their products to ensure that they would meet the very high standards and quality control required by both ourselves and our clients.
"Throughout this process, our focus has been on the way that end users can use the products and how employers can effectively manage their duty of care for their employees and protect an ever-increasing mobile workforce. Through SafetyIQ we are able to provide an offering that allows employers to do just that, no matter how big or small their business is."
SAT will undertake comprehensive training programmes with all new clients implementing the SafetyIQ software, ensuring the companies have a number of 'super users' within their organisations. This will help embed the full solution into the clients' systems and processes and bring about the cultural change management needed to enable them to get the best from the new system.
ENDS
SafetyIQ is a global workforce management business which uses innovative technology to help workers to travel safely and communicate with their teams from even the most remote locations. Operating out of Townsville, North Queensland, SafetyIQ was the first recipient of regional investment as part of the Queensland Government's Advanced Queensland initiative. SafetyIQ journey management software is already used and trusted by a variety of companies in a wide range of sectors including resources, construction, education and health, both in Australia and internationally.
About Strategic Analytics Team:
Strategic Analytics Team (SAT) was established by a group of individuals who have worked in operational logistics for many years for some of the largest companies in the world. It understands the logistics business and what organisations in this sector want to achieve from greater efficiencies, reporting, risk management, fleet management, and compliance to the last mile of delivery. It supports its clients by leveraging the combined knowledge and skills of subject matter experts in the global team and using a combination of robust technology, in house solutions, Research and Development, and the application of quality, environmental and social performance. The company's vision is 'to provide assured risk and operational expertise management to support and improve the safe transportation of people and goods, no matter where they are in the world'.
This is how SafetyIQ works
Any business with a travelling workforce should be able to identify where their travelling employees are and if they are ok. Watch and see what happens when a traveller fails to check-in.